Here are a few pictures of my non Hyo project. I have owned the bike for about 7 years during which time it has undergone a gradual transformation. Most significant changes were made in the rolling chassis. I stripped the original 19" front and 18"rear wheels down and rebuilt them with 21" rim at the front and 19" at the rear.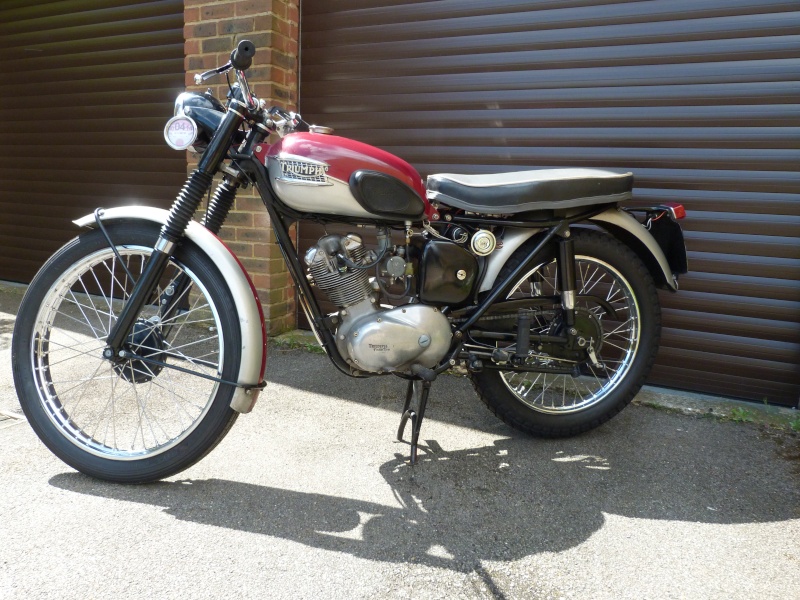 The bike is a 1963 home market sports model Triumph Tiger Cub 200cc. The engine in the foreground is all part of the project. It is one of the last Tiger cub engines to be produced by Triumph ( in modern talk , you could say that its about a mark 10 cub engine) and contains a high compression piston, large inlet valve, hot cam and close ratio gearbox of which some parts are standard items which were found on some cub engines and some were optional extras which were made by triumph for the cub and were available via your friendly woodbine smoking dealer back in the days when 20 a day was considered to be good for you.
I am also considering changing the alternator wiring to allow the bike to run on 12 volts instead of 6volts.
That front brake is absolutely horrendously weak and so riding style has to incorporate outrageous angles of lean in order to accomodate forgetting to brake 50 yards before I normally do... and also incorporates leaving a massive gap between me and the vehicle in front. Riding in aa group is a nightmare because people hang back thinking that I cant keep up and we just get progressively more and more slow. I tell people to just go and I will make my own way. I then deliberately set off 5 minutes later in order that I dont ruin their enjoyment. I have toyed with the idea of making a disc brake set up for it but am deturmined to get the brakes to work better since I believe that it is possible.
Those of you with eagle eyes will spot that it is taxed. I have kept it taxed and tested since i bought it and it will remain that way. Next up is a respray of the tin ware and a sporty little petrol tank. I am more or less stuck with the colour scheme since any other colour for this year and model would just be wrong.
Let's see some of your projects!


Commuter




Posts

: 82


Join date

: 2013-04-27


Location

: South Cambs



Nice project, certainly shows how far bikes have come in the last 50 years

dragonpage




Posts

: 104


Join date

: 2013-04-24


Age

: 37


Location

: Wootton, Isle of Wight



Shees a beauty. Id love to do a project like that.

joel352




Posts

: 164


Join date

: 2013-04-28


Age

: 24


Location

: Halifax UK



Seen that bike in the flesh and what a beauty she is


pandp




Posts

: 42


Join date

: 2013-04-26


Age

: 47


Location

: Essex




stoo2k




Posts

: 2


Join date

: 2013-05-14


Location

: Plympton



A quick update: have resprayed the tinware and rebuilt the forks... still cant get that front brake to act right. More piccys soon.

Commuter




Posts

: 82


Join date

: 2013-04-27


Location

: South Cambs




mark lawrence




Posts

: 16


Join date

: 2014-07-30


Age

: 52


Location

: Hampshire





Similar topics
---
Permissions in this forum:
You
cannot
reply to topics in this forum